It stands to reason that hazardous materials are even more capable of causing property damage or personal injury when they are being transported. Consequently, it is critical that organizations needing to ship hazardous materials work with a company that has extensive experience in "hazmat" handling and transport.
Safe Hazmat Shipping Starts With Training and Certification
In order to properly handle and ship hazardous materials, a specialty crating, packaging and shipping company must have certain certifications, depending on the type of materials handled:
49 CFR (Department of Transportation or DOT). Transportation of dangerous goods by ground.
IMDG (International Maritime Dangerous Goods). Transportation of dangerous goods by sea.
IATA (International Air Transport Association. Transportation of dangerous goods by air.
At Craters & Freighters, we ensure that our Hazmat Certified Locations receive instruction and certification to ensure proper hazmat handling.
Hazmat Shipping: Compliance Is Vital
The key to shipping hazardous materials is compliance with all applicable rules and regulations. Factors like volumes, different hazard levels, compatibility and the mode of transportation determine how your materials are packed and what documentation is required. An experienced hazmat shipping company can take these factors into account and prepare a packing plan for your materials that greatly reduces the risk of an incident and ensures your shipment can travel safely.
For example, the shipping company you choose should have the knowledge to properly pack, label and document your shipments. Failure to do so puts people and property at risk, and potentially the shipper in a lot of trouble. It is never a good idea to take on a shipment such as this yourself without the assistance of trained and certified professionals who have years of experience in this field.
Crating and Shipping Company Rules for Safe Handling of Hazardous Materials
A company that packages and ships hazardous materials should have documented rules for how those materials are handled. At Craters & Freighters, we have a clear set of operational guidelines that employees at all of our 65+ brick-and-mortar locations nationwide must follow.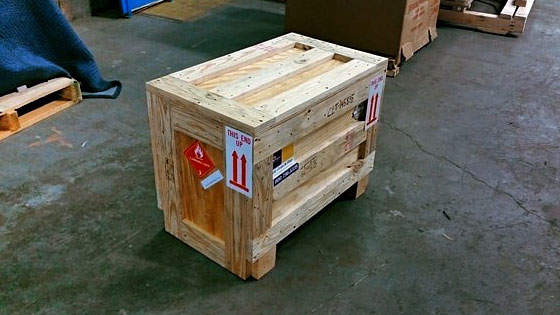 They include things like following all procedures and performing job duties exactly as trained, using extreme caution and planning ahead, wearing personal protective equipment (PPE) as required and inspecting it before each use, reviewing all labels and Safety Data Sheets (SDS) before handling any materials, keeping incompatible materials separated and storing materials in ventilated, cool, dry areas.
And those are just a few examples of the rules that must be followed to ensure the safe handling and transport of hazardous materials.
Hazmat Shipping and the Importance of Defined Operational Plans
One indicator that the specialty crating and shipping company you choose has hazmat shipping expertise is that they follow defined plans for the different aspects of handling and shipping hazardous materials.
For instance, it's crucial to have what's called an Emergency Action Plan. This plan informs the company's employees about things like how to report fires and other emergencies, evacuation procedures and procedures to be followed by employees who handled critical tasks before evacuating. Hopefully this plan is one that will never have to be executed by your shipping provider. But it should be comforting to you—as it is to them—that they have a plan.
Hazmat communications and hazmat security are other examples of plans that a hazardous materials shipping company should have and should require that all employees read and understand.
Hazmat Fines and Penalties
The most important reason for working with a specialty crating, packaging and shipping company that truly understands hazmat shipping is the safety of anyone who comes into contact with or is exposed to a shipment. That priority is followed by the goal of preventing the hazardous materials from causing property damage.
However, there is an additional reason for following all applicable rules and regulations when shipping hazardous materials: fines and penalties that may be assessed by authorities. These penalties vary based on a number of factors, but can be anywhere from hundreds of dollars for something simple like a training violation, to hundreds of thousands of dollars or even prison time for violations that result in serious bodily injury or death.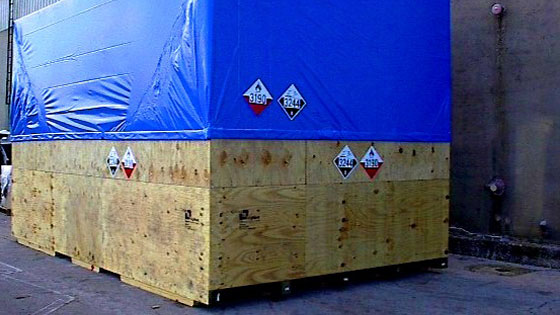 Hazardous Materials Craters & Freighters Does Not Ship
At Craters & Freighters, we can pack and ship hazardous materials according to 49 CFR, IMDG, IATA and ICAO regulations. However, like any other specialty shipper, there are certain limitations to what we transport. For example, we do not handle or ship:
Explosives, Class 1.1, 1.2, 1.3, 1.5, and any fireworks
Toxic Gases, Class 2.3
Spontaneously Combustible, Class 4.2
Dangerous When Wet, Class 4.3
Organic Peroxide, Class 5.2
Poisonous, Toxic & Infectious Substances, Class 6
Radioactive Material, Class 7, I-White, II-Yellow, III-Yellow, Fissile
Hazardous waste
Any liquid or chemical that has been opened from its original packaging
Gun powder, ammunition, cartridges, and primers
Items that require PHMSA registration
Collaborating With a Proven Provider
With any type of specialty crating, packaging and shipping project, you want to work with a company that has experience in that area. Cutting corners can result in late or lost shipments, damaged goods and other costly issues.
When it comes to shipping hazardous materials in particular, it's even more important that you put your trust in an organization like Craters & Freighters that has proven expertise. Even a small error in hazmat shipping can produce serious consequences—from property damage and personal injury to significant legal liability. Partnering with a hazmat shipping expert gives you the confidence that your materials will be handled carefully and will make the trek from pickup point to delivery or handoff point on time and without incident.
Be sure to interview hazmat crating, packaging and shipping providers before making your decision. Any shipper can express their willingness to handle this type of project and claim that they "are experienced" in this area. But you want to hire a company that can demonstrate a track record of success in the safe handling and transportation of hazardous materials.